Prices are valid for one night per holiday apartment, from a stay of 7 nights.
Shorter stays on request.
Apartment 1 Hüttenstüble
Apartment 2 Dubeschlag
Apartment 4 Holzschopf
Apartment 5 Heubihne
Apartment 6 Stubekammer
Apartment 7 Zirbenstüble
55 Euro
73 Euro
63 Euro
63 Euro
73 Euro
59 Euro
All prices include VAT and plus electricity based on consumption and tourist tax.
Kurtaxe: Erwachsene und Jugendliche ab 16 Jahre 1,90 € pro Tag, Kinder von 6 bis 16 Jahre 1,20 € pro Tag.

Smoking is not permitted in the holiday apartments or in the entire house. Pets are not allowed.
KITCHEN
Fridge with freezer compartment, stove, oven, dishwasher, plates, glasses, cups, cutlery, pots, pans, kettle, coffee machine with filters, toaster, hand mixer, can / bottle opener, whisk, bowls, champagne / wine glasses, cutting board, sieve, Grater, measuring cup, egg cup, corkscrew, tea towels, cleaning cloths, sponge, dishwashing detergent, dishwasher tabs. Broom cupboard with vacuum cleaner, cleaning utensils and clothes horse.

BEDROOM
Closet, pillows, sheets, bed linen, partly flat screen TV, extra bed possible (App. Dubeschlag, Heubihne and Stubekammer).

LIVING AREA
Couch, coffee table, flat screen TV, dining table with chairs (some with corner bench).

BATHROOM
Floor-level shower, toilet, mirror, hairdryer, toilet paper, bath towels, hand towels, shower rugs, toothbrush glasses, washing machine (App Holzschopf, Heubihne, Dubeschlag and Stubekammer).

BABY AND TODDLER NEEDS (on request)
High chair, travel cot, fall protection, changing mat, baby bath tub, potty or toilet seat, stool for the wash basin, buggy and back carrier, all free to borrow.

EXTRAS
Barbecue area in the garden, play area with books, board games and toys for all ages. Ironing board and iron on request.
For outside: balls, badminton, surfboard with paddle for the pond,
Winter: Cross-country skis and boots, sledges and slide plates can be borrowed free of charge.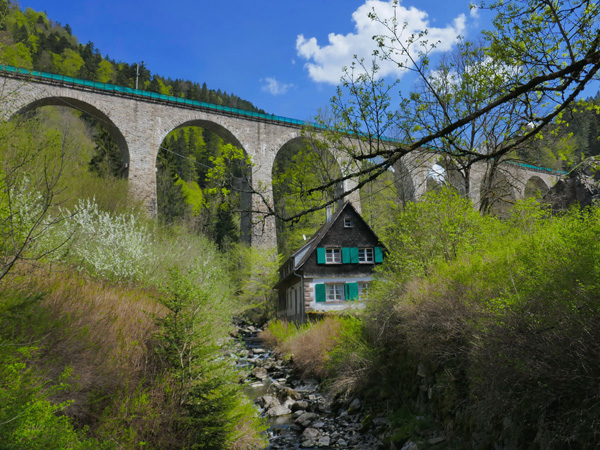 Take the bus and train free of charge to a hike, a discovery tour or a shopping spree. The KONUS guest card is a free ticket for buses and trains in the Black Forest region, from Pforzheim to Basel, Karlsruhe to Waldshut - as often as you like during your holiday and completely free!

TRAVEL CANCELLATION INSURANCE
For every vacation trip, it is advisable to take out travel cancellation insurance just in case, this can protect you against a possible cancellation and / or premature travel interruption.

More information is available here..